We Buy, Sell and Repair Allen Bradley Parts.
Indiana Industrial provides quality new and used Allen Bradley parts including PanelView, SLC 500, PLC-5, 1746 I/O modules, 1747 Processors and Intelligent modules. We also carry all of the racks and power supplies used in your Allen Bradley SLC 500 system. If you need help finding the exact Allen Bradley SLC 500 part number, please refer to the official Allen Bradley Catalog. Our specialists will help you determine the correct replacement part.
Indiana Industrial is a leading supplier of used Allen Bradley parts.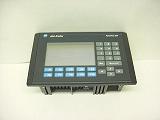 Used Allen Bradley parts are a smart alternative to purchasing new Allen Bradley parts.  All of the used Allen Bradley SLC 500 parts supplied by Indiana Industrial LLC   are thoroughly tested.  Our quality assurance process will give you peace of mind that the SLC 500 part you buy works the first time and works for years to come. Ask about our warranty details. Price, service and quality set us apart from everyday surplus Allen Bradley parts providers.
We specialize in Used and Surplus Allen Bradley parts. In some cases, it can be difficult to find a replacement part. Indiana Industrial LLC can also repair and refurbish your damaged Allen Bradley SLC 500 part.  Most  Industrial Electronic component repairs can be completed within 72 hours. All repair services can include expedited service and delivery. For a quote on any  Allen-Bradley repair, please email us at sales@indianaindustrialllc.com. For components with limited availability we suggest that you consider purchasing a used replacement component and also repair your  damaged component to keep as a spare. We will do our best to provide expedited repair and deliver service to keep you working. Here are the most common Allen Bradley part numbers that we can provide replacement or rapid repair services for. If you do not see your part number listed, please use the contact form and one of our repair specialists will find the part for you. Bulletin 1746 SLC™ 500 Power Supplies, Bulletin 1747 SLC™ 500 controllers, Bulletin 1747 SLC™ 500 Communication Interface Modules, Bulletin 1746 SLC™ I/O, Bulletin 1746 SLC™ 500 power supplies.
Recently Viewed: