We Buy, Sell and Repair Allen Bradley Parts.
Indiana Industrial provides quality new and used Allen Bradley surplus parts including PanelView, ControlLogix, MicroLogix, CompactLogix, FlexLogix, as well as SLC 500, 1746 I/O modules, 1747 Processors and Intelligent modules. We also carry all of the racks and power supplies used in your Allen Bradley SLC 500 system. If you need help finding the exact Allen-Bradley SLC 500 part number, please refer to the official Allen Bradley Catalog. Our specialists will help you determine the correct replacement part.
Indiana Industrial is a leading supplier of new and used Business Industrial Automation Control Systems and PLC Programmable Logic Equipment with a main focus on Allen Bradley / Rockwell Automation PLCs.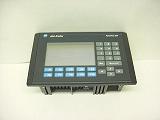 Used Allen Bradley parts are a smart alternative to purchasing new Allen Bradley parts.  All of the used Allen Bradley SLC, PanelView, etc parts supplied by Indiana Industrial LLC  are thoroughly tested before being listed.  Our quality assurance process will give you peace of mind that the industrial control part you buy works the first time and works for years to come. Ask about our warranty details. Price, service and quality set us apart from everyday surplus Allen Bradley parts providers.
For assistance, please email us at sales@indianaindustrialllc.com .
Indiana Industrial LLC is not associated or affiliated with nor are we an authorized distributor or representative of any manufacturer, brand or product listed. Items are not covered by manufacturer's warranty. We do not buy from the OEM, but surplus equipment from a variety of places.
Recently Viewed: